Elegance POS Display Team Invited You to Celebrate the Laba Festival Together
The 24th of January is the Laba Festival,so that means tomorrow. And the Elegance POS Display team invited you to celebrate the Laba festival together. Even though the day is a traditional holiday in Chinese, we still work in the company, any server you need, we will be provide to you at the first time.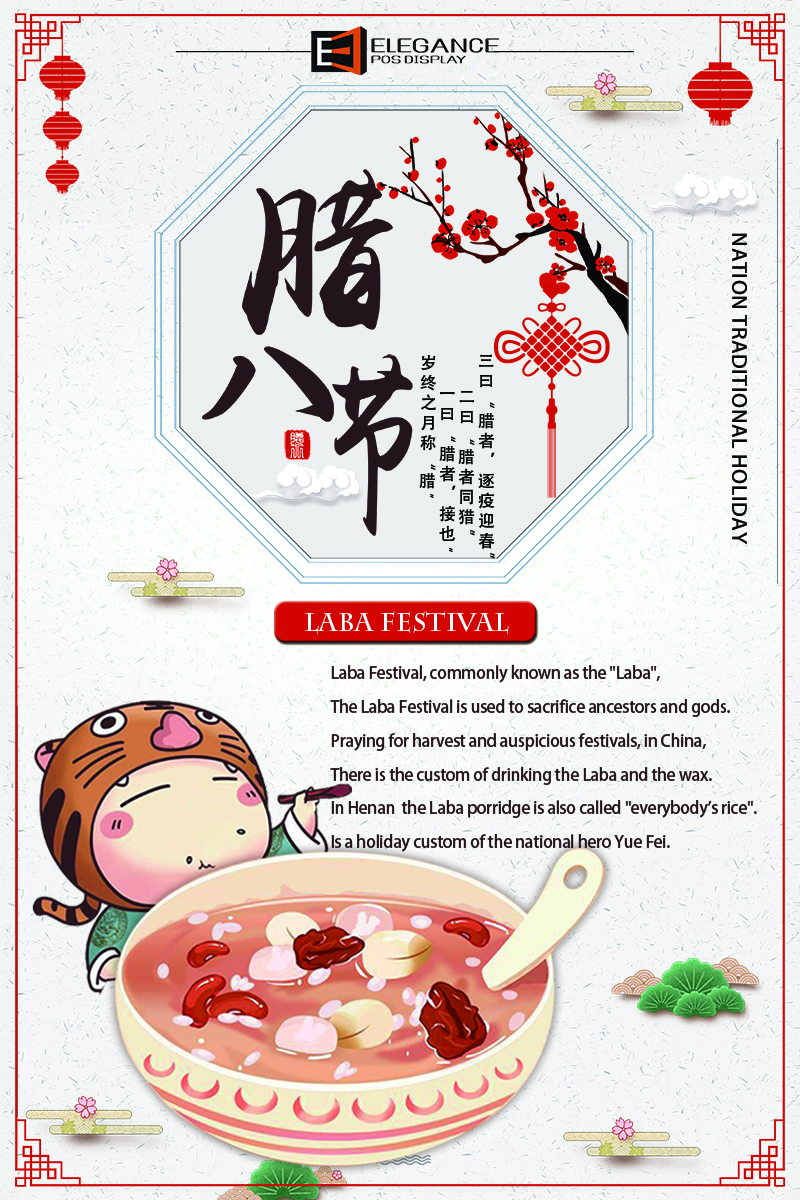 The Laba Festival is a traditional Chinese holiday celebrated on the eighth day of the twelfth month of the lunar Chinese calendar. "La" is the name given to the 12th lunar month and 8 is pronounc
ed as "ba" in Chinese, which translated is "Laba."
In this day, we eat the Laba rice porridge. Let me tell you the eight ingredients contains in the porridge. It has glutinous rice, red beans, millet, Chinese sorghum, peas, dried lotus seeds and some other ingredients, such as dried dates, chestnut meat, walnut meat, almond, peanut, etc. There is one thing need to be intention is that the porridge must be boiled for many hours and then offered as a sacrifice to the ancestors. This must be done before noontime.
Also, it is tradition that family members eat the porridge together. Then they leave some as a symbol of hope for a good harvest the coming year. But in Chinese, there is so many younger need to work outside, so they can't share this beautiful day together, even though they miss each other. However, the distance can be overcome, they can eat the laba porridge, and take a family video chat at the same time. Let us eat the Laba porridge, and Elegance POS Display team wish you a good harvest in the coming year.
Prev:Skechers asked us to customize 2500 pts shoe acrylic display stands
Next:Elegance POS Display Acrylic Display January 2018 Age Activities——Debate Competition